A Dozen Roses ….From My Garden features 12 individual blank note cards, each bearing a distinctive and stunning image of an individual rose bloom from my personal rose garden. Each of the roses in this collection represent the classic, high centered blooms of a florist type rose. Printed on high quality folded paper, each 5 ½ inch square card is matched with a 6 inch, metallic envelope that compliments the colors in each rose. On the back of each card you will find a brief description of the rose and a fun fact highlighting the name of the variety. The envelopes and cards are packaged together in a clear plastic box tied up with a satin bow ribbon to make the perfect gift for a friend or for yourself. Give someone special the beauty of a dozen roses!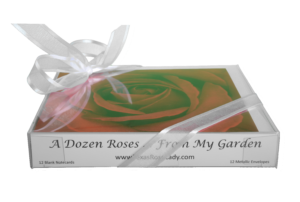 The 12 roses included in this set are individually pictured here; click on each image to see more detail.
Any of the note card images you see on this website can be made into custom designed acrylic or metal photo art for your home or business. Contact me for photo art pricing details.
$36 + $4.49 shipping